Buy Leather Online
Finding where to buy leather online can be difficult, but what is even more difficult is being able to truly source the correct colour, type, weight  and grade selection you require for you specific project.  At Buckskin Leather Company we've had literally thousands of satisfied leather crafters and manufacturers buying leather online since 1995 – safely and accurately.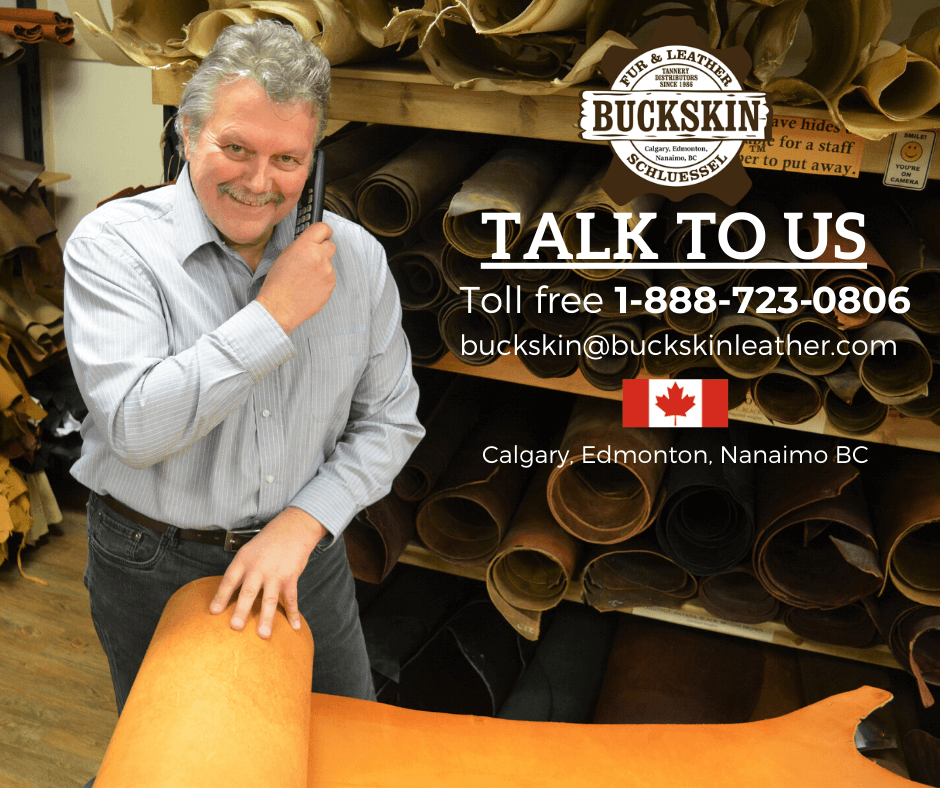 Not sure where to buy leather? Here's why you should consider Buckskin Leather Company for your next project …
We've been involved in the leather industry for four generations from tanning, to sourcing to selling. We also understand the pitfalls of buying leather online firsthand and that's why we are sharing the very same process we use when we purchase leather from our tanneries. Our simple, easy to follow, three step process ensures security and minimizes mistakes in ordering and shipping while eliminating unnecessary returns and shipping delays.
How to buy leather online accurately in 3 simple steps:
1. Request Your Free Leather Sample:
Email us buckskin@buckskinleather.com and request a specific sample of leather you are interested in. Not sure what you're looking for? Don't worry, we'll gladly provide our professional advice as to suitable leathers required for your leather project.
2. Confirm Your Leather Sample:
Once your receive your free sample(s) from Buckskin Leather, review and confirm that the sample is the correct colour, type, weight  and grade selection. If you have hired a tradesperson or leather crafter to do your project, ensure you consult with them prior to placing your order.
3. Buy Leather Hides:
Place order by calling the Buckskin Order Desk toll free at 1-888-723-0806 and specify hide requirements, grade selection you require and colour.
Terms and Conditions of Purchasing Leather:
Buy leather online, hassle free! We encourage all mail order customers to Request Samples prior to ordering to confirm type, colour, grade and weight of your leather purchase.
We recommend contacting us by calling our toll free number for prompt response. For your security ask that you place your order by telephone or fax only – No Email or Online orders accepted.
In the event of shortage of stock, orders will be automatically placed on 30 day backorder for new supply unless we are otherwise advised by customer.
Please refer to both the leather terminology and glossary section for use of proper terminology when ordering leather, as well as product code and description provided on your leather sample.
Minimum Orders – Single hides to bulk orders supplied in uncut whole condition only. Priced by the Square Foot ( unless otherwise quoted ) & measured by the tannery.
Payment – Orders payable on delivery Cash & Carry, COD , Direct Debit or Credit Card ( VISA, MASTERCARD ) No 30 Day term financing provided. Bulk pricing or Sale items subject to added credit card user fee of 3%. Personal & Company Cheques accepted on approval only or where secured by valid credit card authorization.
*NSF cheques subject to $25.- penalty fee* . If uncollected, subject to prosecution.
Canadian Mail Order – Customers may ship via Canada Post or Greyhound on COD or prepay by Credit Card ( VISA, MASTERCARD), freight collect. Subject to GST only. GST Exemption for First Nations orders and Hospitals where exemption certificate provided and order shipped direct to exempt user address.
USA Mailorders – U.S Money orders or Credit Card ( VISA, MASTERCARD) Orders billed in Canadian Dollars and converted at current CDN / USA exchange rate. All USA mail orders exempt from Canadian Federal Sales Tax and Duty under NAFTA. All Canada Post orders shipped by Xpresspost for tracking information.
Note: Wild game hides subject to U.S. Fish & Wildlife Inspection and applicable fees. Freight costs billed FOB Calgary & shipped via Canada Post / USPS Express-Airmail. As all shipments must clear Canada/USA Customs, allow for 1 – 2 weeks delivery.
Return Policy – Raw Material sales final. Exchange only on approval & subject to 25% restocking charge, unless due to Buckskin Leather Co. shipping error. Any other exchanges or returns approved subject to customer liability for freight costs incurred.
Warranties – No Liability or Responsibility on use of Raw Materials or Performance can be implied or accepted by Buckskin Leather Co. due to no control over application or customer workmanship.. All raw material used at customer's risk and application only.