Cowhide Rugs and Sheepskin Rugs
Looking for softest most supple cowhide rugs? Access one of the largest premium quality cowhide rug, sheepskin rugs and hair-on hides inventories in Canada and US. These beautiful hides are available for sale to wholesale and retail customers. We inventory them at our Buckskin Leather Company warehouse in Calgary, Alberta Canada and ship daily across Canada and the USA. All hair-on hides are supplied in uncut condition and priced per square foot.
Natural & Exotic Cowhide Rugs and Prints
Our beautiful premium quality Brazilian cowhide rugs are are hand picked exclusively for Buckskin Leather directly at the tannery. These modern rugs have a beautiful soft, glossy and shiny coat averaging 30-49 square feet.
Click Here to View Our Current Inventory
Why Our Natural Cowhide Rugs Are The Perfect Cowhide Rugs?
Every cowhide natural rug is aesthetically stunning, the outside shape is well formed and evenly shaped with all four legs intact. Our cowhide rug are primarily cut and brand free, but on the rare occasion some of our hides have had small professional repairs made at the tannery that are invisible from the top surface of the coat.
Perfect thickness and weight of these skins as well as ample oils and moisture in the rug ensures that the cowhide rug lay absolutely flat and ensures edges do not curl.
Natural colours and patterns on each cowhide rug vary depending on cattle breeds. We stock solid black or white hides, 2 color Hereford and Holsteins, 2 color black or brown and white patches, tricolor ( black, brown and white ) as well as brindle or salt and pepper type colors. Individual cow hide rug pictures are available by following this link. Typical used for area rugs, pillows, and furniture upholstery. Contact us for color availability. All prices quoted per square foot. For Reseller pricing, please contact our warehouse. 

Sheepskin Rugs, Shearling and Saddle Stock
Our sheepskin rugs and wool skins are available in either Chrome tan for garment use and rugs, or vegetable tanned (veg tan) for saddle lining. Chrome tan skins are natural white in colour and are either full length wool for rug use or sheared to a specific wool length 1/2, 3/4, and 1 inch. Ideal for garment, footwear lining, and seat cover use. Average skin size 6-8 square feet. Vegetable tanned saddle stock shearlings come in gold & natural cream colour and are selected for wool density and a minimum 10-12 square feet in size. Wool length 3/4 – 1 inch for relining saddles and breast plates where a firmer hide substance is required with a dense wool.
Available Sheepskin Rug Colors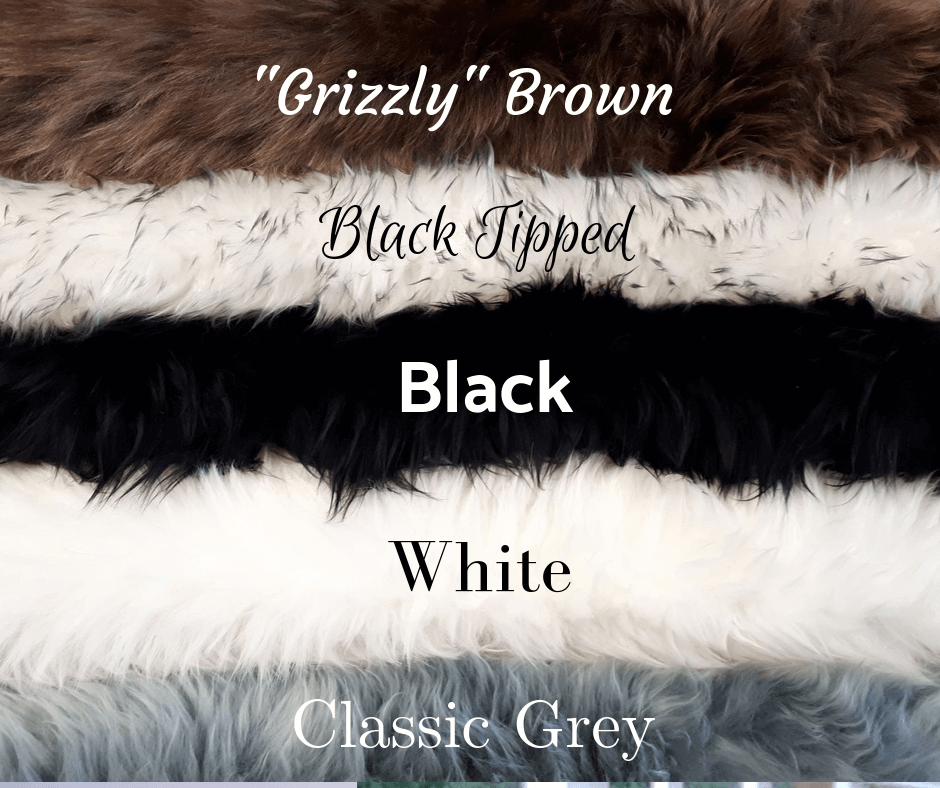 Hair-on Hides, Pelts & Furs (Farm Raised / Wild Game)
Available stock includes: Calfskin, Reindeer, Buffalo and Rabbits with some wild game furs such as Fox, Coyote, Wolf, Muskrat, Weasel, Beaver, Deer, Elk and Moose are available on a seasonal basis. Prices of pelts will depend on grade selection and size of pelts. Most of our pelts are sourced for trim purposes and not taxidermy or mounting grades. These pelts have some fur damage and are therefore being offered for salvage purposes in various price ranges. Please contact our warehouse directly to confirm your requirements. If you have questions about furs industry in Canada, please visit the The Fur Council of Canada or the Fur Institute of Canada where you can access information on fur trapping, fur farming, and the fur trade.
Note: Our wild game skins and furs can be ordered for shipment within Canada only.  Unfortunately we do not ship wild game skins and furs to the U.S.A. due to U.S. Fish & Wildlife restrictions.