Footwear Leather
The following types of footwear cowhide leather hides are available for various footwear leather and workwear use and are described below. All hides are supplied in uncut condition and priced per square foot. Quantity discounts are indicated in minimum bundle volumes. Special job lots are offered on discontinued colours or special purchases. For customers looking for vegtan leather for footwear soles, you can find details on our vegetable tanned leather page.
Footwear Leather (Shoe, Boot, Chap & Workwear)
This cowhide footwear leather is produced in various firmness, texture and thickness for footwear application as in shoes, work, cowboys boots and chap. Colours available in many earth tones in smooth or shrunken grain texture and various finishes from dry to oily. Sides average 18-25 square feet in weights ranging from 3 – 4 oz, 4 – 5 oz and 5-6 oz. For heavy duty outdoor work boot gear as in logger boots, an all weather oil tan boot leather is also available. Also makes excellent work chap material which resists weather and moisture.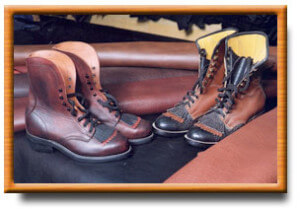 Moccasin / Mukluk Cowhide Suede Leather
This cowhide suede leather consists of double shoulder split suede in 3oz. weight. Approximate size 8-12 square feet. Single hides may be ordered in either tannery run size of up to 10 square foot skins or Chap selects over 10 square feet, priced accordingly. Bundles consist of 12 skins, approximately 100-125 square feet of one color. As these skins are split from upholstery full hide stock, they are brand free and have minimal holes. Ideal material for moccasins, mukluks, aprons, chaps, bags and crafts. Current colours stocked include Black, Alaska Gold, Deer tan, Nicotine, Burgundy, Turquoise, Hunter Green, Aqua Teal and Grey. Shipping weight approximately 20-25 lbs. per bundle. Volume pricing for manufactures available for single Bundle orders and Bulk Bundle orders of 500 square feet minimums per colour.
Note:
Buckskin Leather Co. recently purchased a large closeout inventory of premium quality footwear leather from Pfister & Vogel Tanneries and A.L.Gebhardt Tanners of Milwaukee, WI. USA. Both of these Tanneries part of USL (United States Leather) are now closed permanently. This special purchase of job lots and sample production is now offered to our Shoe, Boot and Saddle producers in many types and colours.
Please contact our Calgary warehouse directly for specific sample requests. Hides can be ordered in single sides and bundles and are priced according to grade selection ( holes, brands, scratches etc. ) & volume. Get trending ideas by visiting or attending the International Footwear and Leather Show.