Upholstery Leather Hides
Looking for upholstery leather? You have arrived at the right spot.  We are proud to provide wholesale leather upholstery fabric ideal for general automotive, furniture, marine, aviation and leather upholstery repair applications. Our leather upholstery hides can also be used for antique restoration projects and are commonly used by interior designers for interior design projects, Discover why we are a leading leather upholstery supplier and wholesaler for Canadian, US, Italian, and other international upholstery tanneries.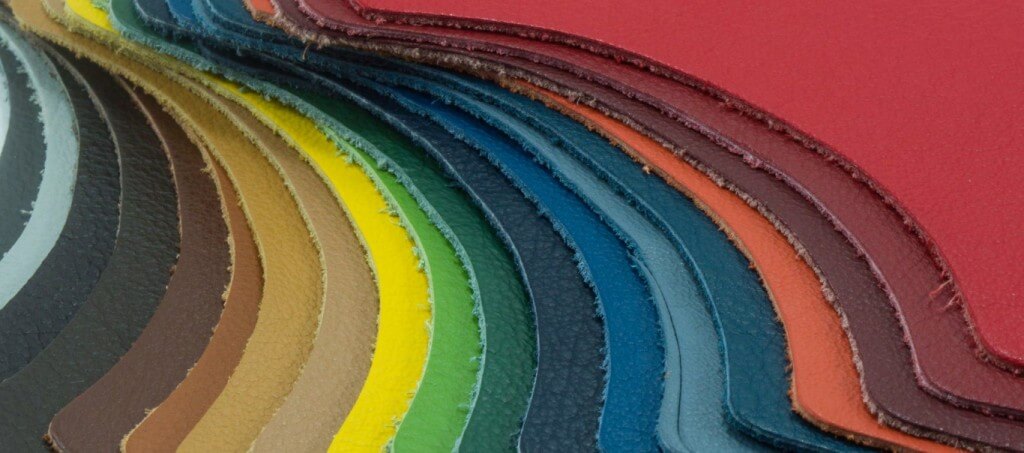 We carry an extensive inventory of upholstery leather for sale and what you see on these pages is but a small sample. The following types of leathers are all classified as "leather hides for upholstery" and available for interior design and upholstery applications through Buckskin Leather Co and are detailed below.
Although the Eurosoft Italian leather is the most popular we have included the "Garment Leather" and "Rustic Nude" descriptions as many job requirements only require sides (half hides).
Furniture Upholstery Leather Hides – "Eurosoft"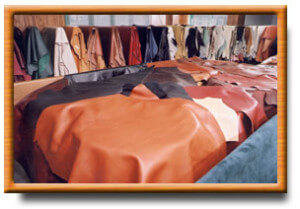 This Full grain cowhide furniture leather upholstery hides originate in Europe and is available in natural grain full hides, averaging 40-50 square feet per hide. These hides are selected from European dairy stock which is larger than North American beef breeds and are grass-fed which results in smoother, less grainy skin. This is a natural uncorrected grain cowhide leather with a finish to protect against moisture and staining. These cowhides are generally brand free and have very minimal grain imperfections and cutting loss. With superb feel and cutting, these upholstery hides are also suitable for the seat cover, garment, and handbag purposes. Our Eurosoft leather sheets are ideal for interior design applications and a favorite choice for customers seeking a luxurious and consistent natural grain hide.
Currently, Buckskin Leather stocks 40 popular standard reorder colors. Dye lots batches are tracked for consistency and reorder purposes. We offer half hides to accommodate customers who run short on a job completion or require trim colors. A complete leather sample book is available on request for commercial users at a nominal cost which will be credited on your first order. Single swatch samples are available to confirm specific colors for interior designers and upholsterers free of charge.
Note: Cleaning leather fabric can be tricky and should only be done with the advice of a professional upholstery cleaner. The Institute of Inspection, Cleaning and Restoration Certification (IICRC) is recognized internationally as a knowledgeable industry voice and resource. The IICRC has put out a guide with 10 tips for maintaining and cleaning furniture leather – ideal for professionals and DIYers. Please use caution when cleaning leather as harsh chemicals or products can cause irreversible damage.
Sample of Available Colors of Upholstery Leather for Sale.
Colors for L-Series Line Include:
| | |
| --- | --- |
| Ferrari Red (L) |  Cardinal Red (L) |
| Rosewood (L) |  Mandarin Orange (L) |
| Wild Rose Pink (L) |  Kiwi  (L) |
| Citroen Yellow(L) |  British Tan (L) |
| Honey Brown (L) |  EuroTan (L) |
| Mink (L) |  Milk Chocolate (L) |
| Chocolate (L) |  Espresso (L) |
Our L-Series line also includes:
| | |
| --- | --- |
| White (L) | Bone (L) |
| Vanilla (L) | Sand (L) |
| Putty (L) | Clay (L) |
| Soft Grey (L) | Pewter (L) |
| Charcoal (L) | Jade Green (L) |
| Blue Marlin (L) | Pacific Teal (L) |
| Classic Royal (L) | Nero Black (L) |
Colors for LT-Series, PD-Series, & WR-Series include:
Automotive Leather Upholstery Hides
Our Eurosoft Italian upholstery leather hides, as used in furniture upholstery, is also used extensively for auto restoration and high-end automotive interiors requiring a premium natural full-grain leather. This European leather auto upholstery is soft and supple and pleats well which makes our Eurosoft an ideal leather upholstery fabric for autos. It is lighter in weight and has a natural smooth grain in comparison to conventional factory auto leather which is mostly a man-made finish and grain.
For applications requiring aircraft upholstery hides or marine upholstery hides, fire retardant certification in the same colors can be ordered for an additional charge.

Note: As this car leather upholstery is lighter in weight and finish, it is not intended as a substitute for factory interiors for durability and wear. Its elegance is best suited for show cars, hotrods, and high-end luxury cars requiring a softer natural feel and look. 
General Purpose Upholstery Hides
Cowhide Club Jacket / Chap Garment 2 – 3 oz / full-grain cowhide leather upholstery averaging 18-25 square feet each in various grade selections. Garment grade will have some brands, barbwire marks, or holes. Chap selection is brand free with minimal grain defects or holes in the primary area. Available in standard colors as used in the handbag, team sports club jacket, rodeo chaps, motorcycle leathers, general utility garment, and light upholstery leather where smaller cuts are required.

Rustic / Nude Upholstery Leather
Cowhide Deer Tan Natural Garment 2 – 3 oz / Full grain cowhide leather upholstery averaging 20-25 sq. ft. in natural finish. This leather is nude in finish and soft. As it has very little if any finish it is more sensitive to staining or moisture absorption. We suggest you use caution in certain applications as this leather is subject to soiling and moisture. Used primarily in rustic look or natural buckskin look applications such as moccasin, buckskin jackets, gloves, and log furniture upholstery ( Users own risk for Upholstery ). Available in three tones of natural gold deerskin color, saddle tan color, and black. Grade selection is dependent on the number of brands, grain imperfections, scratches, or holes. Note for USA customers, this leather is often substituted for deerskin orders as it looks and feels similar. As cowhide is domestic and not of Wild Game origin, there are no inspection requirements by U.S. Fish and Wildlife.

Note: Any garment leather used for upholstery is at the Users Own Risk as these skins are not specifically tanned for Upholstery and have a lighter finish. All hides are supplied in uncut condition and priced per square foot. Special job lots are offered on discounted colors or special purchases. Reference our leather terminology and glossary for a comprehensive guide to types of leathers and different Grains to be aware of.