Featured Leathers, Sales Items & Clearance Specials

Buckskin Leather Company offers leather for sale in both regular reorder lines as well as stock lots of assorted surplus leather from tanneries and other source leather suppliers. Our leather clearance special stock lots are graded and sorted, then offered to our customers for in-store sales and telephone orders. **Note: Samples are not available for clearance lots. Most of these stock lots are overruns as well as color variations and sample production which accumulate in the Tannery. We offer these as clearance specials which are sold on a first come first serve basis and limited to availability while stock lasts. Pricing on this page quoted in Canadian dollars.
We invite those customers who have the opportunity to visit our Calgary warehouse or Nanaimo outlet to browse this inventory in person. Prices for this inventory are dependant on grade selection and type as well as volume and are as follows. Please continue to watch this page for future leather clearance specials and sales announcements. Customers can also call our toll-free number for updates of newly received stock lots at 1-888-723-0806 and alternatively you can check our online leather supply price list to view our other regularly priced leathers for sale.

Featured Leather Hides & Tools
---
Big and beautiful Buffalo hides. We only get these in a couple times in a year and we always sell out! Come soon for best selection. Limited Buffalo robes available, average size 35 – 45 sqft. Priced range from $1495 – $1995 each, dependant on colour and size.
You might not know this but Buckskin also carries Leather Working Tools. New shipment of C.S. Osborne tools has just arrived. Come check out our new items that will make a great addition to your leather work set. All tools stocked from C.S. Osborne, made in USA, England and Germany.
Monthly Leather Sales Items
---
20% OFF of Walsall Hardware, our Pro-line of premium grade leather hardware. Solid brass, stainless steel, Italian bronze, and nickel brass. Large selection. In stock inventory only.
Looking for more colour? Find it in our lambskin leather selection. New stock added of over 7000 sqft. Priced as low as $5.95 sqft. Excellent product for handbag, lightweight garment design and baby slippers. Assorted one of a kind colours. Get inspired for your projects!
Colder weather means colder floors. Warm yours up with a hair on cowhide rug. Take 20% OFF for our pre-inventory sale. These are assorted natural hides, upholstery grade. Highly durable and a beautiful accent piece to any home.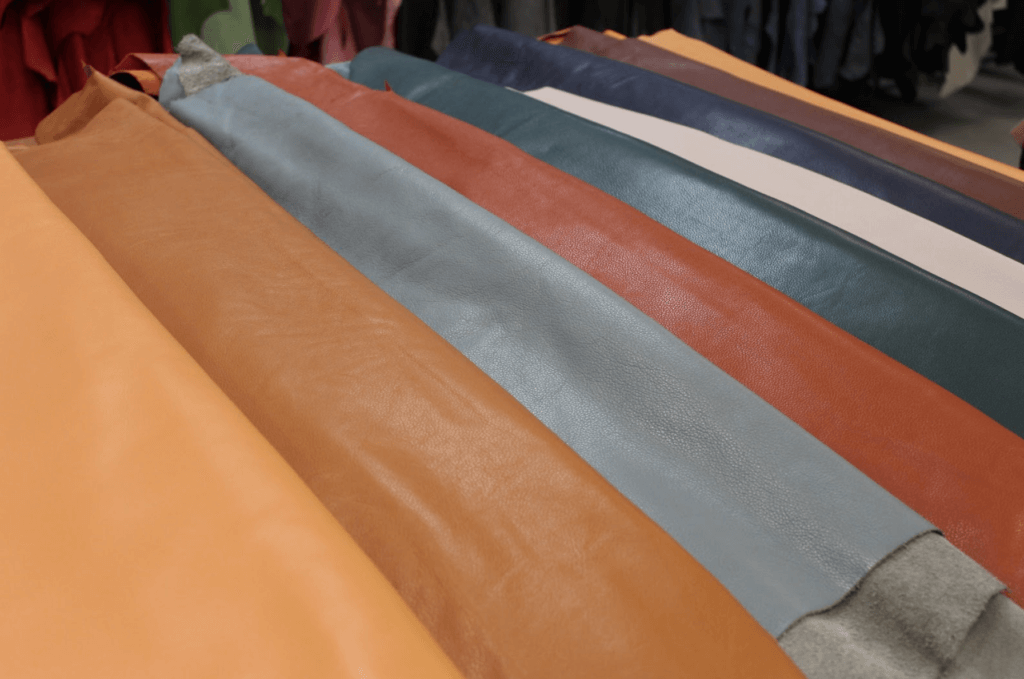 Fall is in the air!  20% OFF the list price for our pre-inventory sale on stunning glovetan and embossed grain leathers in fashion colours. Our shelves are stocked with over 11,000 sqft. of new selection. Help us count less inventory! Priced from $5.95 – $6.95 per sqft. Sides average 20 – 25 sqft. each.
Love latigo leather? Great because we've got a bunch. Over 3000 sqft. (150 sides) of assorted utility grade latigo 6/8 – 8/10 oz. weight. Comes in different natural colours. Special pricing for pre-inventory sale $7.95 – $9.95 per sqft. Sides average 20 – 25 sqft each.
Exotic cowhide embossed and print leathers now available. One of a kind colours and textures. Get creative with your designs this season. Priced as low as $7.95 per sqft. Sides average 20 – 25 sqft.
Amazing selection of new stock lot colours. Over 15,000 sqft. Available unique one of a kind, full-grain hides. European sourced upholstery, handbag and footwear leathers. Priced for pre-inventory sale as low as $5.95 per sqft. Take an additional 20% OFF all random assorted upholstery, excludes LTD stock lots. Full hides can be sold in half at customer request. Full hides average 50 sqft. Halves are average 25 sqft.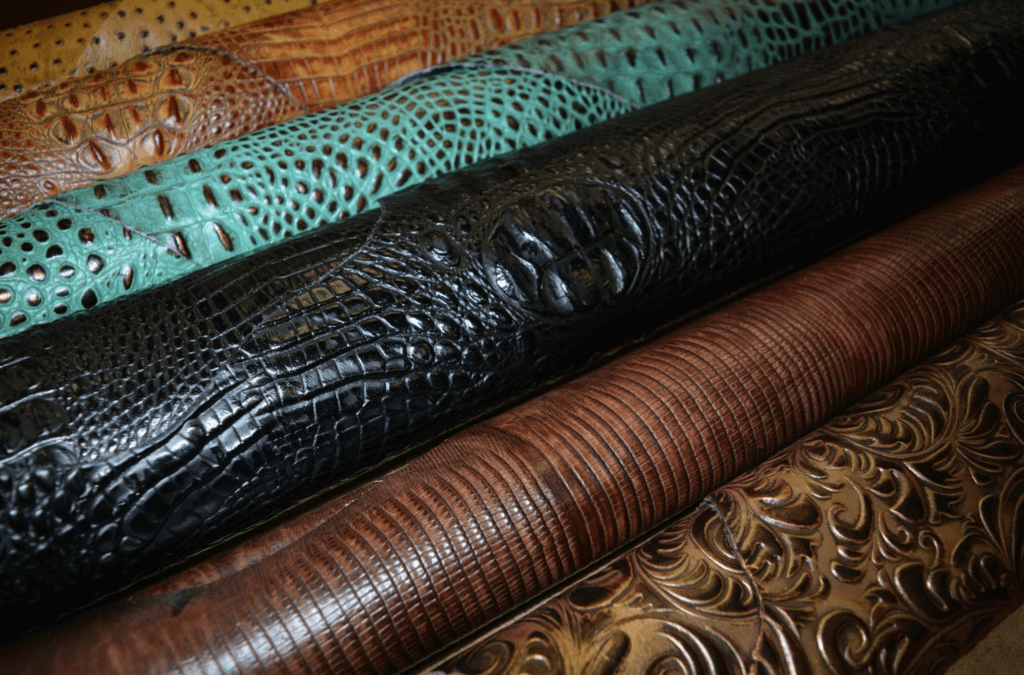 New stock of Barbarossa leather, embossed exotic full hides. Includes hornback, lizard, ostrich and floral. Limited quantities available. Priced at $14.95 per sqft. Can be purchased in half hides as well. Full hides average 50 sqft. Halves average 25 sqft.
Special buy on select overstock colours 30% OFF soft metallic sides! See in-store stock for available colours. Available while quantities last.
Just arrived GIANT shipment of Hermann Oak. 7000 pounds, over 250 sides of skirting, tooling, english bridle, along with bellies and shoulders. Save on limited stock of D-Grade tooling and specials on lightweight skirtings. Bundle pricing eligible on 3 side minimums mix and match Hermann Oak. No membership fees!

PRE-INVENTORY SHIPPING SALE – We are offering CANADA POST Expedited shipping at 50% OFF standard rates. Ends October 31st. Minimum $100 orders. Excludes liquids, hardware, tools and heavy leathers. Canada only.

Colourful and natural earth tone sheepskin shearlings. 20% OFF for pre-inventory sale. Priced at $29.95 – $39.95 each.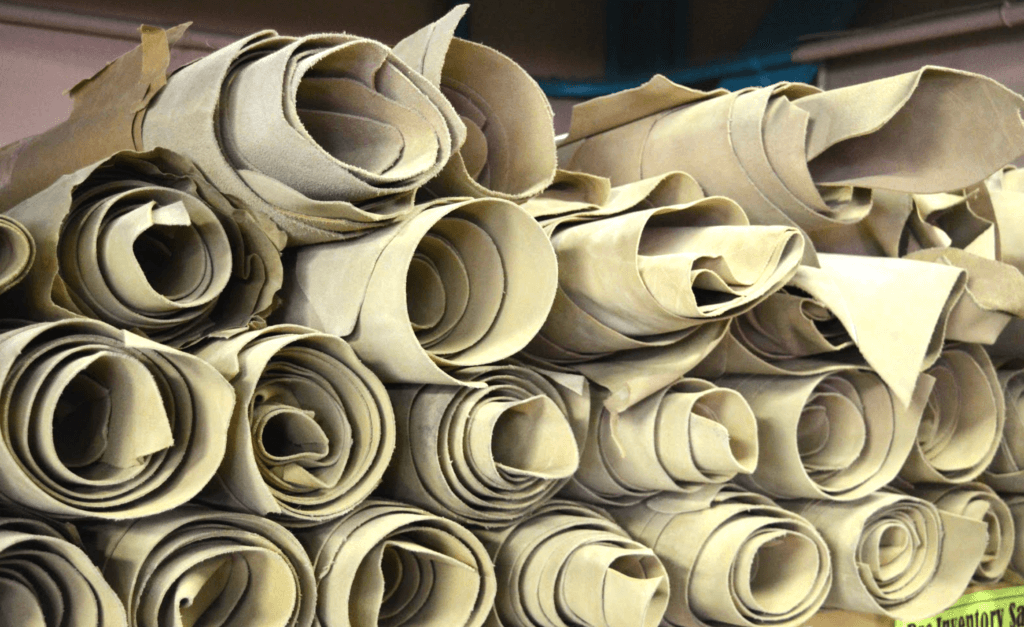 All weather apron splits made for the US military boots in desert tan colour. 10-12 sqft. Water resistant, 4.5 oz weight. Regular price $5.95 per sqft. Take an additional 20% OFF for pre-inventory sale. Over 7500 sqft. Available.
Assorted deerskin hides craft grade available. Priced as low $5.95 per sqft.
Leather Clearance Specials
---
Check out Buckskin's Clearance Centre. Freshly stocked with hundreds of colours and types of random one of a kind garment, shoe and upholstery leathers. Best deals in the house! From 0.95 cents to $3.95 per sqft.