Fashion Apparel & Garment Leather
Buckskin Leather Company stocks a comprehensive inventory of wholesale and retail apparel and fashion garment leather from tanneries and leather suppliers throughout the globe. All hides are machine measured in square feet and sold in uncut condition. Pricing is per sq. ft. and based on color, grade selection ,size and quantity. Discontinued leather colors and stock are offered in our leather clearance section. For current stock colors, please call the Buckskin Leather warehouse at 1-888-723-0806. Looking for premium fashion leathers like those found at top leather fashion garment trade shows? We've got what you're looking for!
Lambskin Apparel & Fashion Garment Leathers
Skins average 6-8 square feet each, with bundles consisting of 10 to 12 skins. These full grain leathers are available in both natural smooth and texture. Colors range from earth tones to bright fashion design. Lambskin is typically used for handbags, bomber jackets and ladies fashion dress. As these skins are from young sheep, they are limited in size ,very soft and, supple and delicate in finish. ( not recommended for heavy wear or upholstery applications). Please check our current stock of over 20,000 sq ft of assorted fashion colors.

Pigskin Leather Suedes
This Pigskin is available full grain suede in 1 oz weight. This is the strongest and most consistent layer of pigskin with a velvet suede side. For this reason we no longer stock the cheaper split double suede skins which are small and weaker in strength as they are the second layer of the hide. Full grain skins average 10-15 square feet and are finer textured, stronger and more supple. This layer is smooth one side with suede reverse side. Ideal ladies fashion dress and western wear material. Easy to sew on home sewing machines.

Pigskin Enamel / Prints / Metallic Leather
These pigskin prints on suede or grain side available in a variety of patterns and average 10-15 square feet. This full grain skin is also available in smooth metallic and designer metallic patterns. Ideal use for high fashion accenting, costume dress and jewelry accessories.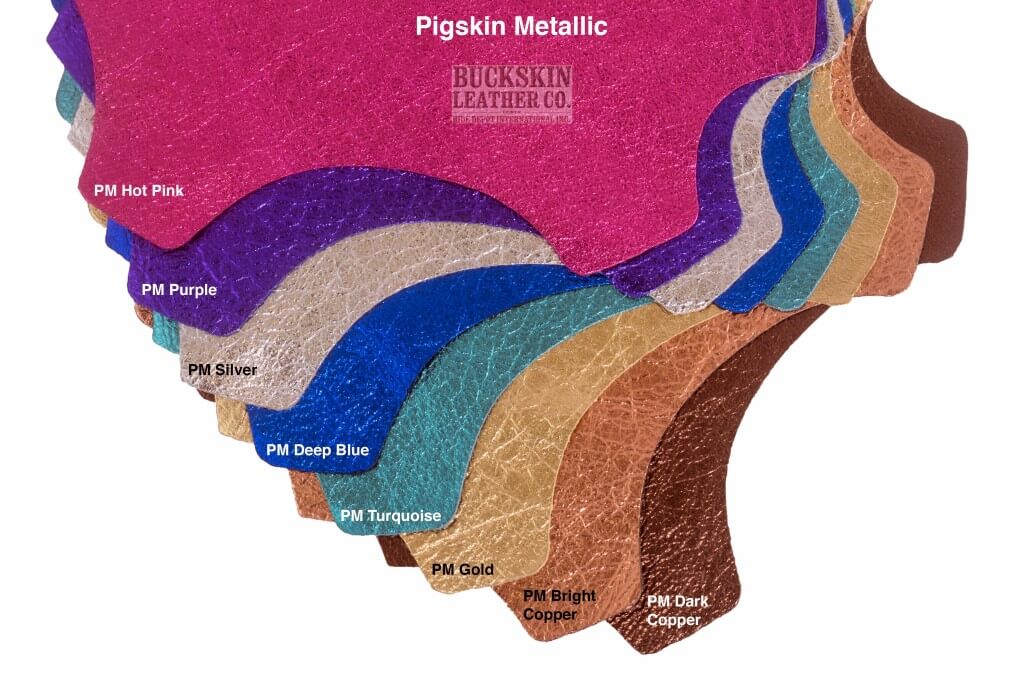 Goatskin Leather
This very versatile full grain leather has been recently introduced to our inventory in black only. These light weight skins average 7 sq ft in size and are very strong and durable for handbag, backpack, footwear , garment and light upholstery applications. Skins are very clean and semi gloss in finish. Please check with our warehouse for current pricing and availability.
Cowhide Leather
Light weight cowhide full grain sides in 1 to 1.5oz thickness. These half hides average 18 to 22 sq. ft. and are available in a variety of colors and finishes. Ideal ladies fashion skins for skirts, handbags, jackets and western wear. This leather is strong while light enough in weight to sew on home sewing machines with minimal cutting loss due to size of the skins.

Cowhide Lamb Touch Nappa Leather
This leather is available in 1.5 to 2oz weight averaging 25 to 35 square feet in half hides. Also now available in full hides 2 to 3 oz, average 40 to 50 sq ft. These sides are very supple and ideal for ladies and men's fashion garment use. These skins have the soft feel of lambskin with the strength and size of cowhide. Also used in lightweight upholstery and drapery applications where a soft , loose, pillowy effect is required.

3 oz to 4oz Cowhide Club Jacket / Chap & Chap Metallic Leather
This full grain cowhide side leather averages 18 to 25 square feet each in various grade selections. Garment grade will have some brands, barb wire marks or holes. Chap selection is brand free with minimal grain defects or holes in the primary area. Available in standard colors as used in the handbag, team sports club jacket, rodeo chaps, motorcycle leathers, general utility garment and light upholstery leather. Metallics available in both firm foils for fringing / accents and soft metallics for chap bodies and garment. Please check with our warehouse directly for available colors in stock.

2 oz to 3 oz Cowhide Deer Tan & Natural Glove Tan Leather
This full grain cowhide side leather averages 20-25 sq ft in natural smooth grain finish. This leather is nude in finish and soft. As it has very little finish it is more sensitive to staining or moisture absorption. Used primarily in rustic look or natural buckskin look applications such as moccasin, buckskin jackets, gloves and rustic log furniture upholstery. Available in natural gold , palomino, saddle, red, mahogany, chocolate and black. Grade selection is dependent on brands, grain imperfections, scratches , holes and size of hides.
USA customers: this leather is often substituted for deerskin leather orders as it looks and feels similar . As it is of Cowhide and not wild game origin, there is no inspection requirements by U.S. Fish and Wildlife.