Veg Tanned Leather
Since 1986, our family-owned business has served as a leather hide supplier of international and the USA made full-grain cowhide veg tanned leather for tooling, leatherworking, carving and saddlery. Buckskin Leather is now the Authorized distributor for Hermann Oak Leather in Canada which produces a variety of veg-tan leathers for leather crafters, medieval armor, footwear, saddlery, horse tack, boot making, orthotics, and harness applications. All hides are supplied in uncut condition and priced per square foot or by the side for saddlery skirting, English bridle, and harness. Quantity discounts are offered for a minimum of 3 side bundles of mix and match weights.
Hermann Oak Leather has been tanning the finest quality vegetable tanned leather since 1881 in St. Louis Missouri and Buckskin Leather Co. is honoured to have been chosen as their new Canadian Hermann Oak leather supplier and distributor for Canada in 2014. We thank our predecessor, Caledon Leather Sales Inc. of Calgary, for their 28 years of service representing and promoting the Hermann Oak leather tradition and their products. We would like to inform all previous Caledon Sales customers that we not only carry the same lines Caledon made available. We also have expanded the lines and have introduced some new and exciting Hermann Oak weights and lines for saddle makers, leather craft, hobbyists and leatherworking applications.
Veg Tan Leather or Bark Tan
This cowhide vegetable-tanned leather utilizes organic tree bark and its natural tanning agent "tannin" to produce a hide substance capable of absorbing water and swelling as required for tooling, case forming, and carving leather. These hides are available in Sides: 20-25 sq. ft., Double Shoulders: 10-15 sq. ft., and Bellies which average 5-6 sq. ft. Weight thickness is available in most types starting at 3 oz up to 15 oz ranges from light carving to heavy saddle skirting, bridle, and harness. The natural color of "russet" is undyed for further custom-dying by the leather crafter. Veg tanned leather or otherwise know as Bark tan leather is required for any tooling, carving, casing, and stamping of leather as in belts, wallets, saddlebags, holsters, rifle cases, body armor, saddles, tack, and leather orthotics. This particular full-grain veg-tan leather will have the characteristic of minimal stretch, firmness, durability, and the ability to hold tool design, carving, case forming, dying, and stamping.
English Bridle Leather
English bridle leather is a full vegetable-tanned leather designed specifically for strap leathers, belts, and horse tack equipment in the saddlery trade. This English bridle leather is pre-colored into a natural transparent deep finish along with a pasted flesh side. This feature eliminates the need for lining the backside for belts and straps that can be then edged for a stand-alone single-ply leather. Colors available in black, chestnut, Havana brown ( chocolate ), Britsh brown, and London tan. Weights range from 8 to 10 oz and average 20 to 25 sqft.
Latigo Leathers – Chrome Tan, Veg Retan or Alum Tan (Indian tan).
Chrome Tanned Latigo Leather
Chrome tanned latigo leather is a softer more pliable leather. This latigo leather is produced in either dry pigmented or natural oil tan finish and is ideal for saddlebags, and general horse gear with the exception of any strap goods as chrome tanned leather is subject to more stretch. Colors available in Black, Burgundy or Brown in various thickness, 4-5 oz, 6-7 oz, and 8-9 oz.

Veg Tanned Latigo Leather
Veg-tanned latigo is a firm latigo using only tree bark tanning to produce strong, colored leather for cases, scabbards, saddlebags and saddles were no tooling or case forming is required. This leather is prefinished and can also be used for strapwork where minimal stretch and tying is required. Sides average 20-25 sqft and are available in a deep burgundy or black in 8 to 10 oz weight.
Veg Re-tanned Latigo Leather
Veg tan re-tanned latigo leather is a firm durable strap grade latigo with a limited degree of stretch while maintaining pliability for tying. This veg-tan re-tan latigo leather is initially tanned in chrome for flexibility and then "Re tanned" in Veg/Bark for a denser, firmer grain which results in a flexible, firm, limited stretching latigo. The hides are then hot stuffed with tallow and wax to add moisture resistance for outdoor applications as in saddle latigo's, reins, saddlebags, lace leathers, and saddle strings. Available in black, burgundy and brown and either 6 to 7 oz or 8 to 10 oz. average 20-25sqft.

Alum Tanned (Indian tan) Latigo Leather
Alum tanned latigo leather is known for its "yellow center", is the firmest and most dense grained latigo. Also called "Indian Tan Latigo", the tanning process condenses the hide fiber and is recommended where an extremely tough and durable leather is required for strap applications. Ideal for boot laces, saddle strings and heavy duty strap latigo's. Colors available in brown, or yellow . All alum tanned latigo sides average 20-25 square feet and are graded as "B" branded, or "A" brand free.

Harness Veg Tanned Leather
Harness leather is veg-tanned leather with the additional process of hot stuffing with wax and animal oils (tallow) to produce a firm, non-stretching, weather-resistant leather for use in outdoor horse harness gear, lines, reins, etc. This veg tanned harness leather is available in either natural "Russet" (Medium brown in appearance due to wax finish), or "Black". These sides average 20-25 square feet and average 7 to 7.5 feet in length along the backbone. Weight 10-12oz ( medium ) or 12-14oz ( heavy ) or 13 – 15 oz extra heavy.
Hermann Oak Leather Single Shoulders in Various Weights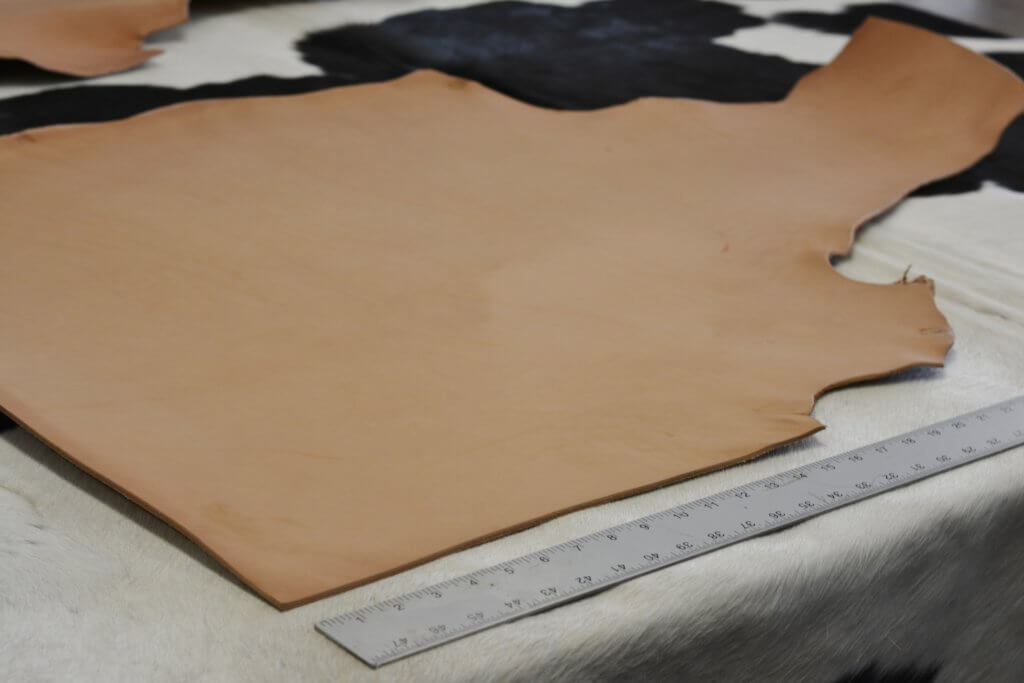 Veg Tanned Hermann Oak Single Shoulder Leather from 3 oz to 11 oz weights now available! Great for holsters, journals, handbags, wallets, saddlebags, cases, chap tops, hobby craft, and other smaller leather crafter projects. Single shoulders weights include 3 oz – 4 oz, 4 oz – 5 oz, 6 oz -7 oz, 8 oz – 9 oz, and 10 oz -11 oz along with another with 100 sides of skirting and tooling leather sides. Average size of our veg-tan single shoulders are 6 to 9 square feet.